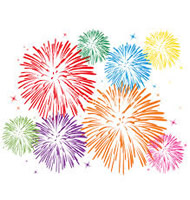 KEEPING PETS SAFE & HAPPY
OVER THE 4th OF JULY HOLIDAY!
We all love the smell of a barbecue, the company of friends, and the colorful, loud explosions of fireworks on this special holiday. But for our pets, the 4th of July is one of the most stressful and dangerous times of the year. Not only will thousands of pets in San Diego be terrified by the sounds of fireworks and firecrackers, but they will jump through windows, dig out of backyards, run into streets and be killed by cars, and many will wind up in shelters miles and miles away from their homes, never to see their families again. It happens every year.

So, what can families do to prevent this fate? Responsible pet owners will realize that even their most well-behaved dog or cat may NOT behave like the calm pet they know and love the rest of the year. Here is a list of tips to keep your pet safe:
1. Have a collar and ID tag on your dog, with name and your phone number at all times (year-round and even when inside)
2. Make sure your dog is microchipped and the microchip company has your current contact info.
3. Keep your dog inside in a secure location at all times on July 4th. Fireworks are frequently set off at all hours of the day by neighbors, people at family picnics/bbq's, etc., so it's not just nighttime when dogs get scared.
4. Do not ever leave your dog tethered while alone or unsupervised. If startled, dogs can get seriously hurt by tangling themselves in leashes or by trying to pull free.
5. Play relaxing music for your dog at a volume that may take his mind off of the fireworks
6. Take a current, clear photo of your dog to make sure you have something to use as ID if he gets lost.
7. If your dog gets lost, visit your local shelter, look on craigslist, and "lost and found pets San Diego" on Facebook. If not found, post on the Facebook page, and put up fliers around your neighborhood and at local coffee shops, veterinarian offices, and other gathering spots.
8. If you have a newly adopted pet and you don't know how they'll react to fireworks, it may be best to stay home this year!
Many boarding facilities specialize in accommodating pets on the 4th of July, by providing quiet rooms with televisions and radios, calming tranquilizers if necessary, and 24 hour web surveillance. For those that do lose their pets over this holiday, the best advice is to post flyers throughout the neighborhood, make sure to have plenty of photos on hand to make these posters, and check municipal shelters (those that take stray pets) every day for several weeks, as some pets may not be immediately turned in by the public. A full list of all shelters can be found on the San Diego Animal Support Foundation's Website.